Stock Farm Wedding Photography – Jemma And Chris
I loved shooting this wedding; a big old party in a big old venue for a big-hearted couple!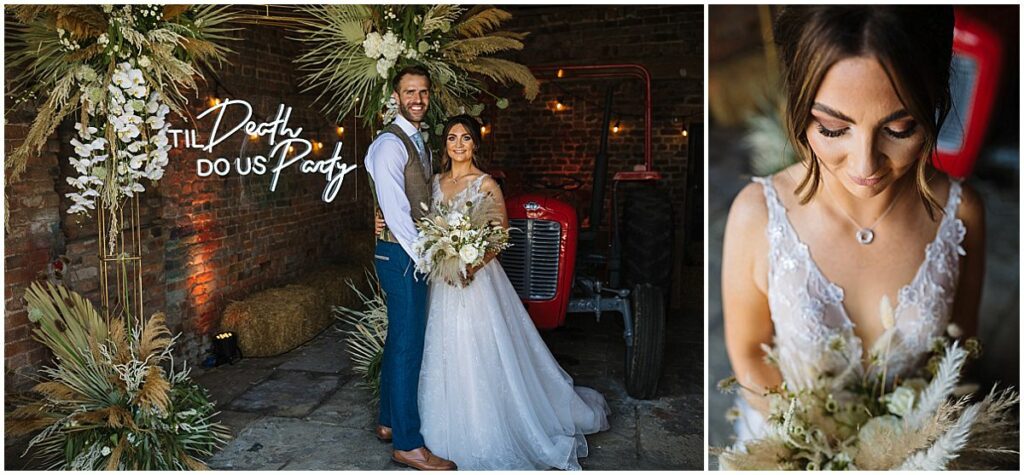 Before the Big Day
I had gotten to know Jemma, Chris and their dog Nellie on our pre-wedding shoot. It can be super awkward having your photo taken, so these shoots are not only a great time for me to get to know the couple, they are a good practice run for being the centre of attention for a day.
I decided to take them out of their comfort zone a little. Luckily, they trusted me and we came away with some great shots. There was such a good vibe between these guys; I knew I was on for a great time at their wedding.
The Ceremony at Stock Farm
Stock Farm Barn, run by Tatton Weddings, is a great space for photographing weddings. I love the fact it has its own dedicated bridal prep area – it saves a lot of time and travel on the day. Those moments spent with the bride and her bridal party, building up to the main event are incredibly special. Jemma looked absolutely stunning in her Riki Dalal dress and Charlotte Mills shoes (which even had a poem inscribed in the sole AND a sixpence built into the shoe!)
The bit just before the ceremony starts is one of my favourite things to witness. Chris stood at the front looking a little nervous. Jemma at the back, ready to come in and looking teary. All the last-minute stresses and panics are over and now it's just about the two of them, getting ready to make their vows.
Or three if you count the dog – Jemma had wanted to surprise Chris by sending Nellie down the aisle first, but Chris was rooted to the spot and didn't turn around. I ended up having to give him a little nudge – his face was an absolute picture when he spotted their hound. Jemma's friend Kate read a lovely poem that continued the canine theme; "How Falling in Love is like Owning a Dog".
"love makes you meet people wherever you go.
People who have nothing in common but love
stop and talk to each other on the street"

from "How Falling in Love is Like Owning a Dog" by Taylor Mali
Afterwards
Exchange of vows over with, and everyone starts to relax. Time for food and speeches and as you can see from the photos, everyone absolutely loved both. Jemma and Chris chose one of my all-time favourites – Flaming Gourmand. As someone who attends a lot of weddings, trust me when I tell you that the food from these guys is insane.
Having already bonded with the couple over a love of music, I knew the evening party was going to be a blast. Jemma and Chris chose Oasis "Slide Away" as their first dance and projected some of the lyrics onto the dance floor.
By the end of the day, I felt like I was celebrating with old friends. I wish them both the absolute best of luck and happiness in their new lives together and I'm honoured that they chose me to record their special day.
---