Styal Lodge wedding photography – Laura and Stu
Yes! What a blog I've got for you today. Sunshine, a gorgeous Cheshire wedding venue, Birdie Campervan and the legend himself, Mr Sylvester Stallone.
Ok, ok. Maybe Sly Stallone doesn't make an actual appearance on the blog but he is definitely there in spirit. Stu is a mega Rocky fan, he even proposed to Laura at the infamous "Rocky steps" in Philadelphia! There were lots of little references to the film dotted throughout the day. Keep an eye out when you're looking through the photos and see if you can spot any…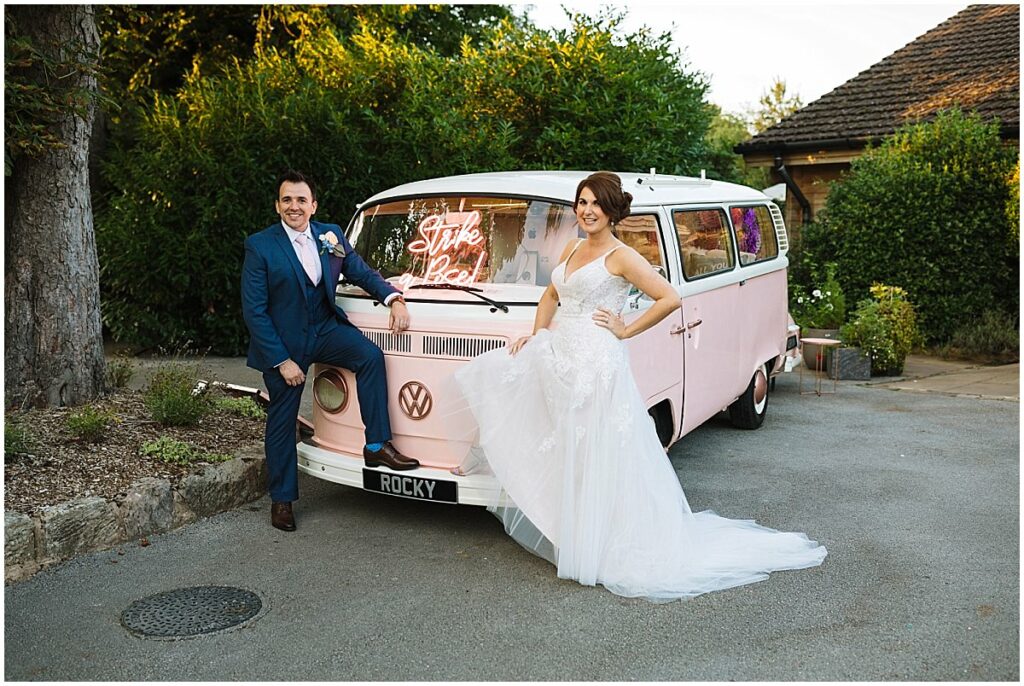 I'm a big fan of Styal Lodge. Nestled away in the beautiful National Trust village of Styal, this family run wedding venue is one of the very best in Cheshire and has the shelves full of awards to prove it!
Laura and Stu knew they wanted a barn style, countryside venue for their day, one that was relaxed and leant towards the untraditional. As soon as they walked into Styal Lodge they knew it was the one for them, Laura said it felt magical and she loved the gardens and the fairy lights. It was everything they'd dreamt of.
Campervans and live music
Both Laura and Stu are big fans of Busted, so as soon as they heard that Matt Willis, the band's bass player, had had Birdie the Campervan at his vow renewal they knew they had to hire the pink camper photo booth for their day! Kitty and Dave are two of the nicest people in the wedding industry and it's always a pleasure to work with them. They go above and beyond for their couples, even fitting Birdie with a "ROCKY" number plate for Stu! Laura and Stu were so in love with Birdie they designed the rest of their decor around her pink colouring! 
You've probably guessed by now that Stu and Laura love their films and music so imagine their joy when they ended up with two incredible bands for their day! As COVID had meant they'd had to postpone their original wedding date they thought they had lost the band they'd originally booked to a prior booking. They'd booked another band to take their place but due to another date change they were able to have their original band as well. Amazing! It all meant that the entire day was just a huge celebration with live music, a gloriously sunny day and drinks and ice cream served from Birdie. I felt like I was at a festival!
As you can probably tell I had an absolute blast with Stu and Laura at Styal Lodge. It was so hard to narrow down this blog post to a handful of favourites but I think I managed it…enjoy!