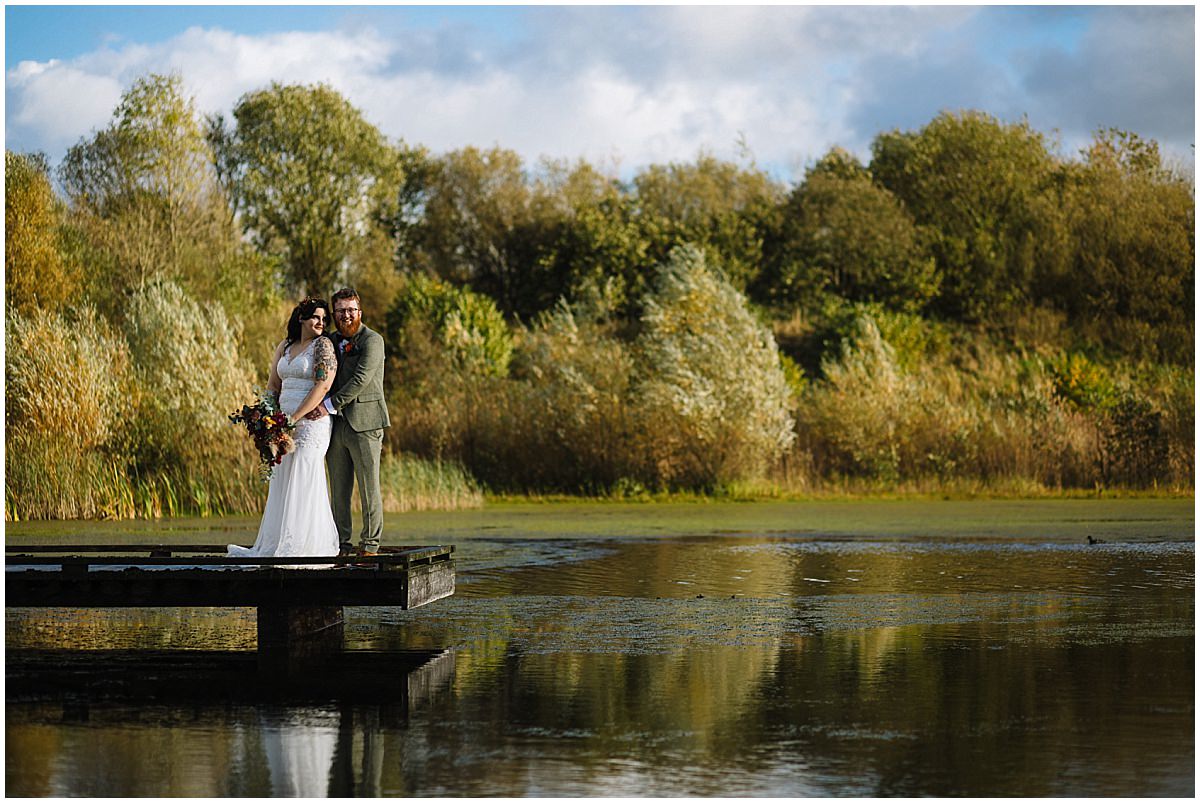 Feast your eyes on this stunning autumnal wedding photography at Brockholes Nature Reserve, Lancashire. Rhys and Genevra had spent many hours strolling around the pathways and enjoying spotting all the animals at Brockholes before they got engaged. They hadn't even considered it as a wedding venue until they viewed a few other places, knew they weren't right for them and their thoughts kept returning to Brockholes. The more they considered it the more they realised how much it suited them as a couple and how many happy memories they already had there. Before long they had made it official and booked!
I first met them at a wedding fair. Genevra has a photography degree so was chatting away to me about that before Rhys came to join us and we all immediately got on. They both knew they wanted natural, unposed photography with an added touch of creativity. Perfect!
Brockholes isn't your typical wedding venue and Genevra and Rhys weren't planning your typical wedding! The eco-friendly building sits within the 250 acres of nature reserve and is built out over the lake. Rhys and Genevra said their wedding vows literally floating on the water! The huge windows in the ceremony room offer panoramic views of the lake and wildlife. Genevra and I had to laugh when she was warned by the registrars not to get too distracted by the ducks!
Autumnal Weddings at Brockholes
Genevra adores pumpkins, nature and autumn, ideal when you're planning an October wedding! She had turned the reception room into a 'rustic cabin' and filled it with flowers, foliage and pumpkins. It looked amazing!
After Genevra and Rhys had been pelted with confetti the three of us escaped to have a walk around Brockholes and get some photographs of them together. We had such a laugh before we made our way back to the reception and walked into…a kid's party! No, we hadn't taken a wrong turn, Rhys and Genevra had planned a reception that was packed full of everything they love, video games, sweet tables, fancy dress, a photo booth. It was brilliant! The DJ played a mix of EMO music and Dad rock (for Rhys, haha!) I was in my element!
Rhys and Genevra had planned a day that was completely and utterly them. They aren't traditional at all so knew there was no point sticking to wedding traditions that don't mean anything to them as a couple. I asked them if they had any advice for couples starting out planning their wedding. Before we get to the photos I'll leave you with their very wise words.
"Don't stick to tradition just because you think you have to. We had a female groomsman, Genevra wore her Docs most of the day, none of our guests wanted to dance to our music choices but we loved it! You do you boo."