Stock Farm is easily one of my favourite wedding venues in the whole country. It's run by a company called Tatton Weddings in Ashley, Cheshire, as part of the Tatton Estate.
They've only been hosting weddings for a few years, but Stock Farm Events Barn has quickly become one of the most popular barn wedding venues in the North-West. Here's a few reasons why.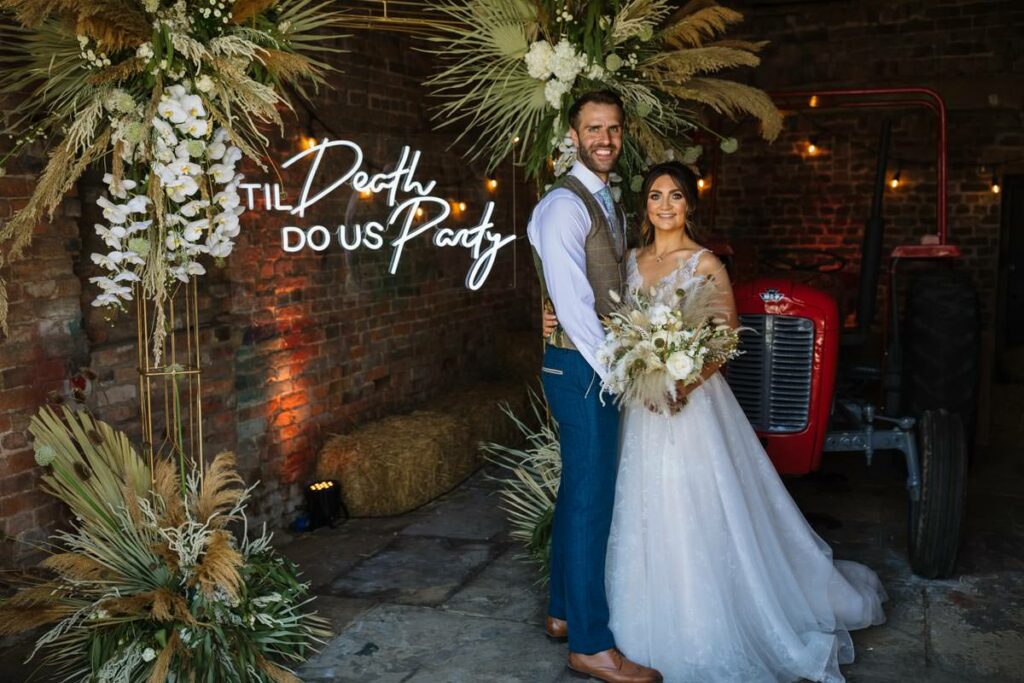 It's beautiful.
No, forget that. It's incredible. It's been transformed perfectly from a working stables into a dedicated events space with two barns, an 18th century farmhouse, private courtyard and grounds. They've kept all of the charm and rustic vibe, so the photos look amazing, but everything works perfectly, and you've got all the equipment and facilities onsite that you might need.
They've got a dedicated bridal prep area in the farmhouse, too. You wouldn't believe how much of a timesaver this can be – not just for the bride, but for the whole bridal party (and the photographer!). You can all save your energy for the dancefloor, rather than spending two days before your wedding cleaning your house so it looks good on your bridal prep photos.
There's beautiful fields and woodlands all around, so you can take a short wander and get some lovely nature shots too if you want.
Great locations and setting = great wedding photos.
I cover a lot of ground on your wedding day. The choice of wedding venue can make a big difference – some venues I feel like asking for a golf cart or something! Don't get me wrong, I'm not scared of a little exercise, but depending on the venue I can end up doing an additional 8,000 – 10,000 steps (yes, I measure it).
So, when I get to Stock Farm and everything's laid out round a lovely little courtyard, and every single location is within a 75-metre walk, I'm a happy man. It means I can spend more time focused on capturing you and your guests at your best, and less time traipsing about all over the place with my gear.
Stock Farm is still big enough to accommodate most weddings, though – the capacity for seated diners, according to Tatton Weddings, is 200. You can invite a few more for the reception, too, with standing capacity of 350. It was big enough for the Coronation St. cast and crew at Sam Aston's wedding .
If the weather's right, you can have your ceremony outside in the garden, which looks great. In the evenings the high, fairy-lit ceiling in the barn lets you get some really dramatic, atmospheric shots.
Awesome staff.
I'm there a few times a year, what with wedding exhibitions as well, and I honestly couldn't name you a friendlier team of people. I'm so comfortable there – it's like being welcomed back to a friend's house where you know where everything is and you can just wander about. Anything you need, they're going to sort you out – no big deal. How many wedding venues do you know that let you bring your dog?
And the food…
They've got a select list of approved caterers, including Flaming Gourmand, which is basically like dying, going to heaven and finding out that God is a Brazilian. You can bring your own caterer if you insist, but I might fall out with you.
For more information about Tatton Weddings, including news of any upcoming wedding exhibitions, you can go to https://tattonweddings.co.uk/
And if you want to get an idea of how I work at Stock Farm, you can see for yourself here.