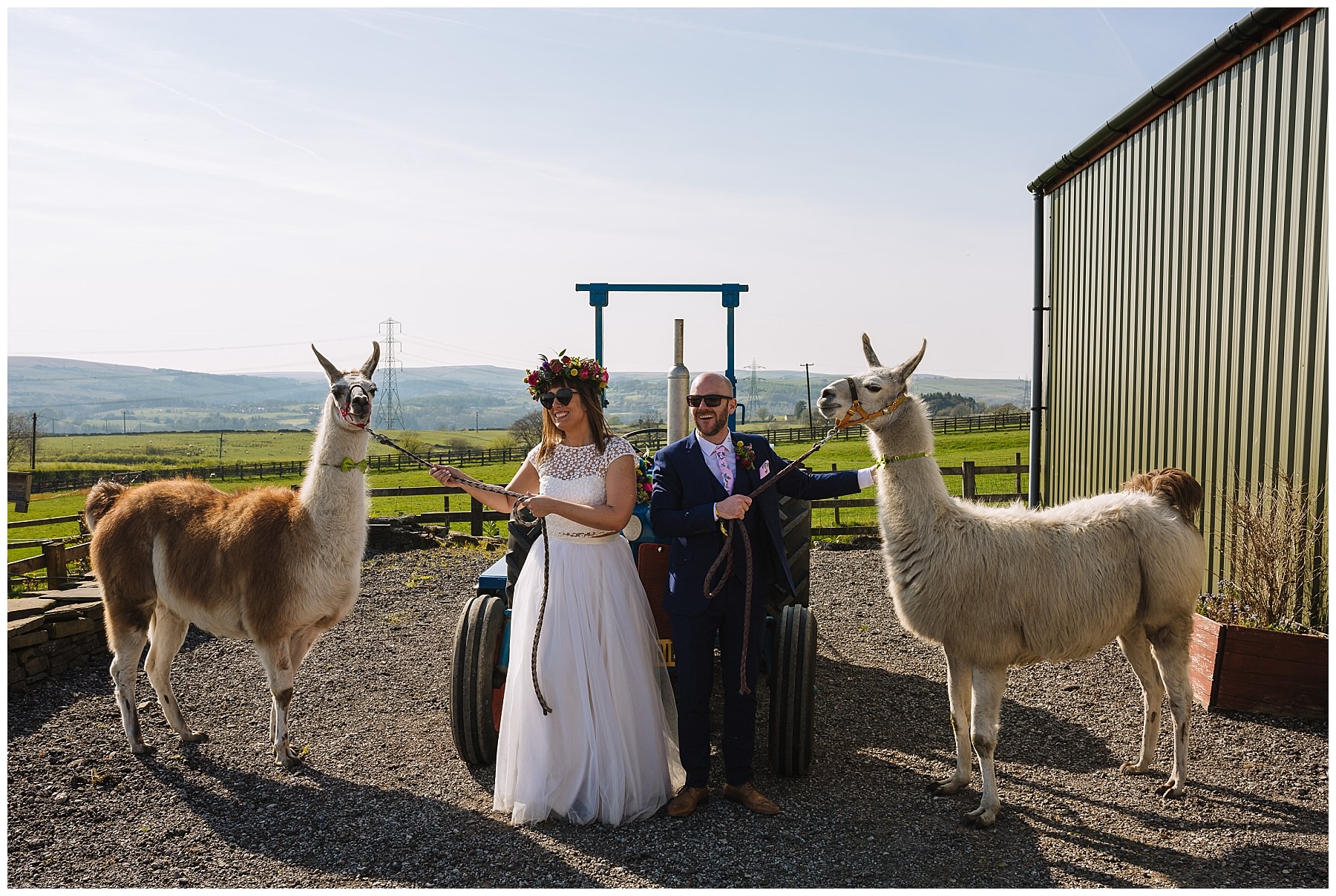 I was going to do my usual blog write up for Caz and Scott's amazingly quirky Wellbeing Farm wedding. However, Caz got in touch with her own summary of the day and it's so utterly brilliant that I decided it was far better to hear about it from her rather than me.
Before I hand over to Caz I'm going to take a moment just to repeat myself – I LOVE the Wellbeing Farm. Like Caz and Scott it is crammed full of personality and there's quite literally a surprise around every corner (normally a surprise in the shape of a bow tie wearing Llama!)
If you're planning a wedding there then take a look through this blog, and my past Wellbeing Farm weddings, then get in touch. I'd love to hear from you!
Now, over to Caz!
"So Scott and I met in our local pub 17 years ago. It was during the 2002 World Cup and we, like most of the country had piled into the local drinking establishments to get behind England in a crucial match against Denmark. England won that day…and so did I!
Getting wed wasn't at the top of our list. We travelled, we bought houses and we had two beautiful children. Then, to my delight and surprise, three years ago Scott proposed on Christmas Day. I was giddy with excitement, yet neither of us made any attempt to turn that sparkly ring into a wedding! The thought of that big, grand day overwhelmed us both so much that the years passed without us doing anything.

Wedding planning – Caz and Scott's way!
I love nothing more than attending a wedding. They are just the BEST days and being a guest is great…but the thought of attending my own scared me to blumin' death!
When it came to thinking about our wedding plans I knew I wanted a fabulous dress, all the colours of the rainbow and flowers everywhere but the rest needed to be as relaxed and informal as possible.
Unlike me, Scott hates a fuss and he didn't want anything traditional so our visions were the same – ish! We both wanted a day that was different and packed full of personality. A wedding that was all about love and fun with very little 'official' bits.
However, we still hadn't set a date. Then Scott's brother told us he was travelling over to England from his home in Australia. This was big news. All the family would be together at Easter so we decided to celebrate that by getting married!
Wedfest at the Wellbeing Farm
I plucked up the courage and dipped my toe into the world of wedding planning. I googled "quirky weddings" and up popped The Wellbring Farm. I liked the name, gave them a call and within days was there for a visit. Within five minutes of arriving I knew it was the place for us.
Wedding venue booked we decided to have a break from it all (ha!) and start wedding planning in earnest after Christmas. Cue three months of frantic box ticking and decision making! Wedfest was go!
Our theme was quite simply 'rainbow surfer dreams' haha! The decor was bright and bold, with all the colours of the rainbow and then some! We had flowers in milk bottles and jars mixed with neon pom poms everywhere. The venue spoke for itself and we just added a little bit of magic.

Choosing a wedding photographer
I have to say, choosing our photographer was easy! Nik was all kinds of cool and amazing! We instantly knew he was our guy the moment we met him.
He made us both feel relaxed and excited for the big day! I love being in front of the camera however, Scott, like most men, would rather stick pins in his eyes! Luckily Nik reassured Scott so brilliantly and made him feel instantly relaxed. I skipped home the night we met Nik and couldn't wait for all the photo magic. Scotty didn't exactly skip (way too cool for that!) but he had a spring in his step and a little smile on his face.
Nik worked his socks off and didn't stop all day and night! He reassured me so many times throughout the day when I felt a little nervous. HE WAS AWESOME!
I loved receiving three sneaky official pics the very next morning-it was just the nicest surprise to wake up to after the most amazing day!
Top tips for couples
My top tip is nice and simple, do what YOU want and don't be afraid to break the rules. Your wedding your rules!

Supplier Shout Outs
Venue – The Wellbeing Farm
Flowers – Love Rosie
Band – Hit The Dance Floor
Make up – Mirror Mirror
Dress – The Case Of The Curious Bride
Magic Mirror – Scene My Event
Magician – Rockstar Magic